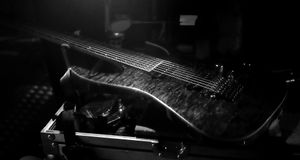 S K Y P E  G U I T A R   L E S S O N S 
-
H E Y   S H R E D D E R S  !
Welcome and thanks a lot for your interest into my Skype guitar lessons. 
So... It seems you want to work hard to achieve your goals, but how hard do you really want it?    
Yes, even if you are a total beginner we can do great things together, it's actually even better
as it's easier to start with the right basics rather than losing bad habits, but in any case, don't worry, I will help you.
The only thing that will make a difference, is your motivation and dedication. 
-
H O W   D O E S   I T   W O R K  ?

As far as how the lessons go: You will just need a webcam, your guitar and a good connection. Then, you'll prepare a list with all your goals, what you want to achieve, it could be anything, develop certain techniques such as Sweeping, Alternate picking, Legato, etc... Work on theory, modes, composition, arrangement, composition, or simply learn some solos of Adagio or my stuff...
Then, I prepare a working plan, based on the time you have, and from that point on, we will work on developing those areas with specific exercises and lessons. 
-
H O W   M U C H   D O E S   I T   C O S T   ?

   >  One single hour/month =  130€  <
   >  Two lessons/month = 260€ 220€ (110€/h)  <
   >  Four lessons /month (1 lesson/week) = 520€ 380€ (95€/h)  <
Payment and reservation are done in advance via Paypal. 
As soon as I receive your payment confirmation, the slots are booked for you. 

-
R E A D Y ?   ; )

Send me a message via the form below!